NEWS 2022
Stop Wing
Stop 574-2
Design: Kenneth Bergenblad

Stop is a fully-upholstered, functional furniture family that gives a homey feeling while nonetheless fitting into the public interiors of tomorrow. Stop is also easy for users to sit down on and stand up from, for universal inclusivity. Stop is designed to offer different tactile sensations in its textiles and to achieve the desired contrast, harmony and colour experience. Stop is available as high and low armchairs, two seater and three seater sofas and the Stop Wing chair.
Stop Wing is an easy chair with a high, encompassing back of the wingback model with an adjustable neck cushion and high seating comfort with an inclusive cut in supportive dimensions.
The upholstery is completely removable and washable, providing durability and hygienic benefits. Stop Wing has a gap between the back and the seat to avoid dirt and bacteria entrapment.
Stop wing is crafted in FSC-certified birch and carries the Möbelfakta label.
ADDED VALUE
Inclusive and embracing piece for environments with special functional and hygiene requirements.
Creates a homely feel in public interiors.
Good accessibility under the sofa for easier cleaning.
Completely removable upholstery.
Optional colour of underframe.
Gap between seat and back for best hygiene.
OPTIONAL EXTRAS
Frame in any NCS colour
Rubber fabric/hospital fabric
REUSE
Solid wood
Removable upholstery
NCS colour code of your choice is available for this product
---
Specification
Views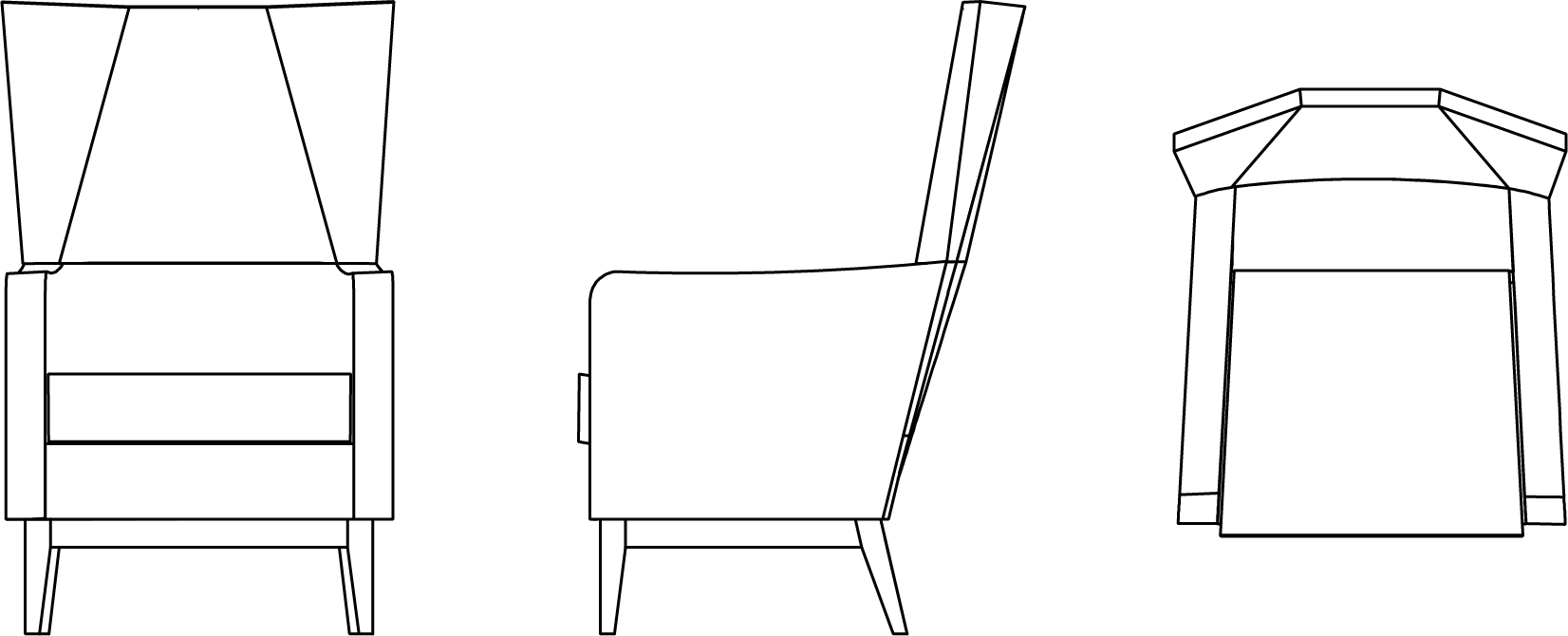 Choose your color
NCS colour code of your choice is available for this product
Care instructions for this piece of furniture
Wood
Wood is a living material whose grain has a natural variation in pattern, hue and lustre from the start. The wood is affected for example by humidity, temperature and season. Due to the fact that wood is a living material it means:
Screws need to be tightened regularly, at least once a year.
Massive tabletops might need to settle with up to 0.5% depending on the surroundings.
Light from lamps and sunshine have a certain effect on the colour and lightness of the wood surface, so please let the same amount of light expose the whole surface.
To take care of the environment we lacquer a big part of our products with water-based products. This means:
Spill of coffee or other liquids must be wiped off immediately.
Please clean the surface with washing-up liquid or mild pH neutral cleanser and lukewarm water, wipe with clean water and wipe dry. Do not use cleaning agents which are alkaline, aggressive, contains abrasives or solvents.
For disinfection non-alcohol based agents are recommended, such as Virkon or DAX Alco Free. Alcohol based agents should not be used.
Textile
Please wash removable and washable fabrics according to washing instructions. These have been sewn with allowance for shrinkage, so please wash before use for optimal fit.
Vacuum cleaning with a soft nozzle is generally sufficient for cleaning fabrics.
Spots should always be removed as quickly as possible. In most cases, it is sufficient to wipe with a cloth dampened with distilled water. For more difficult spots, use a pH-neutral washing-up liquid or a foaming detergent for professional use.
Always use white cloths and avoid dampening woollen fabrics, as woollen fabrics risk leaving spots behind.
A foaming detergent can also be used for more thorough cleaning, assuming this is permitted by the fabric's specification.
Downloads
Environment documents
FSC-Certificate
3 MB
Sustainability Declaration
608 KB
Möbelfakta certificate
233 KB
Kenneth Bergenblad
Designer
For NC Kenneth Bergenblad has designed the series RIB and STOP as well as the serving trolley RUTER.
Kenneth nowadays works with his own company Bergenblad Design. Previously Kenneth has been the Chief Designer at Dux Möbel AB. He was born in 1944 in Vetlanda, Sweden.
Kenneth has been awarded several prizes and awards, such as:
Silver medal in Möbelgesäll 1965
Resources Council Product Award New York 1980
Guldlampan Nordisk Design 1982
Runner Up Prize Köln 1989
Diamant Emma Stockholm 1994
Kulturpriset i Skurups kommun 2013.
Read more