Genom att ta hand om sina möbler på rätt sätt håller de sig i gott skick längre och ges alla förutsättningar för en lång livslängd. Detta spar både pengar och naturens resurser så se till att sköta om dem väl.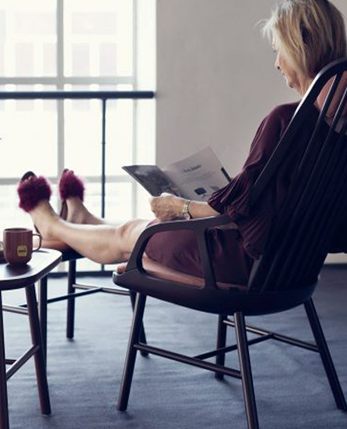 82% of our product range is labeled with Möbelfakta
Wood
Wood is a living material whose grain from the very beginning has a natural variation in pattern, color tone and luster. The wood is affected by, among other things, the season, heat and humidity. That wood is a living material means:
Screws need to be re-tightened regularly, at least once a year.
Solid table tops can naturally warp by up to 0.5%.
Light from the sun and lighting can cause permanent color and light differences in the surface, so allow the entire wooden surface to be exposed to the same amount of light.
Av omsorg för miljön lackar vi en stor del av vårt sortiment med vattenbaserade ytbehandlingar.

Detta innebär:
Spills of coffee and other liquids need to be wiped up immediately.
För rengöring rekommenderas handdiskmedel eller pH-neutrala rengöringsmedel och ljummet vatten. Torka av med rent vatten och torka torrt. Använd ej rengöringsmedel som är alkaliska, aggressiva, innehåller slipmedel eller lösningsmedel.
For disinfection, non-alcohol-based agents are recommended, e.g. Virkon or DAX Alco Free. Alcohol-based agents must not be used.
Laminate
Laminates are very durable surfaces that fit well in public environments.
Daily cleaning with a dry cloth.
For more difficult stains, non-abrasive cleaners can be used.
Hardly ingrained stains or discolorations can usually be removed by carefully using a cleaning agent with a mild abrasive action.
Rings and streaks that form on the surface are most easily removed with window cleaner.
Do not use scouring pads or steel wool as this will cause scratches.
Marker and ink marks can be removed with e.g. acetone or alcohol on a clean cloth.
Disinfection can be done with alcohol if the surface is dried afterwards.
Fabric
Removable and washable fabrics are washed according to washing instructions. These are sewn with a shrink seam, wash before use for optimal fit.
Vacuuming with a soft nozzle is often sufficient for cleaning.
Stains should always be removed as quickly as possible. In most cases, wiping with a damp cloth is sufficient, for more difficult stains, a pH-neutral detergent or a foam detergent for professional use can be used.
Always use white cloths and avoid wetting a woolen fabric to a greater extent, as this risks remaining stains.
If necessary, a foam detergent can also be used for a more thorough cleaning if this is allowed in the fabric's specification.
Leather
Vårdar du lädret på rätt sätt så blir det vackrare med åren. Läder är värmekänsligt. Därför bör direkt solljus och nära kontakt med värmeelement undvikas. Dammsug möbeln för att få bort lös smuts och damm. Torka av lädret med lätt fuktig trasa och vid rengöring kan en mild tvållösning användas. Vattenbaserade lädervårdsprodukter förlänger livslängden.
Metal
For regular cleaning, use a lightly moistened cloth with a mild detergent without solvents or abrasives.
For heavily soiled surfaces, a cloth moistened with alcohol can be used.
Disinfection can be done with alcohol if the surface is dried afterwards.
Plastic
For wiping, use a mild detergent without solvents or abrasives. Regular dish soap works well.
Glass
Rengörs med fönsterputsmedel eller diskmedel utspätt i vatten.